After a Trip to Ms Cupcake in London on Saturday before the Roller Derby Bout, I bought the long drooled over Appetite for Reduction by Isa, the amazing co-author of Vegan Cupcakes Take over the world, Veganomicon, Vegan with a Vengeance and Cookies Invade your Cookie Jar.
Since then I have been trying a new method to cooking, namely making a few days worth of something healthy for lunch and dinners.
I started on Sunday night with making a chickpea, spinach and tomato curry, finished off with some coconut milk. And preparing my lunch on Monday, I used the forgotten bag of Quinoa (Isa Raved about eating it lots) and it's much better for you than couscous. So cook the Quinoa and when it's cold add to a bowl of grated carrot, chopped tomato, cucumber, radish, coriander, pepper and spring onion.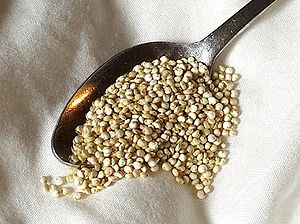 I hope this doesn't sound like a Craig David song but;
I made enough salad for lunch on Monday,
Taco's with chilli soya mince, refried beans and salad for dinner on Monday,
Tuesday lunch leftover taco mix salad,
Tuesday Evening night Curry with Quinoa salad. Pudding of stewed rhubarb with vegan custard.
Wednesday lunch Quinoa salad with humous, lettuce and two tasty gherkins
Wednesday dinner, Thursday lunch, Thursday dinner, Friday lunch, Friday dinner to go!